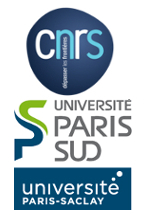 Accueil > Annuaire > J. Martin > Publications

Publications by J&eacuter&ocircme MARTIN
Books
La M&eacutecanique des Fluides
D. Salin et J. Martin, Nathan Universit&eacute, Sciences 128 (1997).

Papers
General public
L'Acoustique, une Sonde adapt&eacutee aux Milieux Dispers&eacutes
D. Loggia, J. Martin, N. Rakotomala and D. Salin, Bull. S.F.P. 106 (1996).

Conference Proceedings
S&eacutegr&eacutegation et m&eacutelange dans les suspensions bidisperses fluidis&eacutees
A. Deboeuf, G. Gauthier, J. Martin et D. Salin, 18&egraveme Congr&egraves Fran &ccedilais de M&eacutecanique Grenoble,,27-31 ao&ucirct (2007).

Instability pattern in a miscible core annular flow
D&acutesOlce M, Martin J., Rakotomalala N, Salin D. and Talon L., Colloque EUROMECH 493 Grenoble, 29-31 ao&ucirct (2007).

Gravitational instability of miscible fluids in a Hele-Shaw cell and chemical reaction
J. Martin, N. Rakotomalala, D. Salin , M. B&oumlckmann and S. M&uumlller, Journal de Physique IV France 11, 6-99 (2001).

Wall effects in a fluidized bed
F. Rouyer, J. Martin and D. Salin, I.C.M.F. 98(International Conference of Multiphase Flow) Lyon, June (1998).

Thesis
Exploration acoustique d'une suspension non-collo&iumldale perturb&eacutee. Mesure des grandeurs caract&eacuteristiques du syst&egraveme
J. Martin, Th&egravese Univ. Paris 6 (1995).
[PDF]