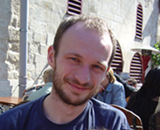 Frédéric Moisy
Professor at University Paris-Sud


Research: Waves, instabilities, vortices and turbulence
Waves and turbulence in rotating flows

Rotating turbulence on the Gyroflow platform, with A. Campagne, P.-P. Cortet, B. Gallet, C. Lamriben
Inertial waves and modes, with N. Machicoane, P.-P. Cortet, C. Lamriben, J. Boisson; in collaboration with L.R.M. Maas (NIOZ, Netherlands) and T. Dauxois (ENS Lyon).
A fluid Foucault pendulum, with J. Boisson, P.-P. Cortet and D. Cebron (ETH Zurich)

Surface waves
Past research:
Turbulent buoyant mixing (with J. Znaien, J.-P. Hulin and Y. Tanino)
Expériences sur la plateforme Coriolis (avec J. Sommeria, LEGI, Grenoble)
Flow between rotating disks (collaborations with O. Daube, CEMIF / LME, and C. Nore, LIMSI).
High vorticity structures in isotropic turbulence (collaboration with J. Jiménez, School of Aeronautics, Madrid).
Low-pressure filaments in turbulence using cavitation (with E. Bodenschatz, Cornell University / Max Planck Institute).
Turbulence in low temperature helium (PhD thesis, supervised by P. Tabeling, LPS - ENS, Paris).
Matlab