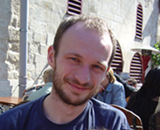 Frédéric Moisy
Professor at University Paris-Sud


Fellow of Institut Universitaire de France
Coordinator of Master's programme Dynamique des Fluides et Energétique
Currently visiting scientist of the Department of Applied Mathematics and Theoretical Physics (DAMTP), University of Cambridge.
Open postdoc position (2017-2019)
Research projects
The focus of my research is free-surface flows, hydrodynamic instabilities and turbulence. In the group Instabilities, Waves and Turbulence, we conduct experimental research on wind-generated waves, ship wakes, parametric (Faraday-like) instabilities, turbulence in a rotating frame, and turbulent mixing of miscible fluids.
Past research projects:
Research highlights
PhD students
Teaching
Matlab ressources