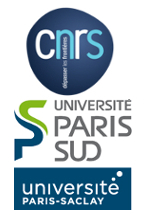 Accueil > Annuaire > C. Ruyer-Quil > soutenance-HDR-CRQ

De la modelisation et des instabilites des films liquides tombants
soutenance HDR de Christian Ruyer-Quil
vendredi 26 octobre a 14h30, salle de seminaires du LIMSI
ATTENTION: le lieu a change: salle de seminaires du LIMSI (batiment 508). Je presenterai une synthese de mes travaux de recherche portant sur l'etude et la modelisation d'instabilites de grandes longueurs d'ondes en general et de films liquides tombants en particulier. Les differentes methodes seront discutees et appliquees aux ecoulements inertiels en cellule de Hele-Shaw. L'instabilite Kapitza d'un film tombant est ensuite etudiee. Les couplages de l'instabilite Kapitza avec les instabilites Marangoni (films chauffes) et Rayleigh-Plateau (flms sur une fibre) seront ensuite discutes. Je presenterai enfin mes derniers travaux sur les films non-Newtoniens, en presence d'une paroi poreuse ou encore cisailles par un ecoulement gazeux.
Instabilities and modeling of falling film flows
Friday the 26th of October at 2h30 p.m. in the seminar room of FAST laboratory
BE CAREFUL: the place had to be changed : conference room of LIMSI (building 508). I present a synthesis of research activities devoted to the study and low-dimensional modeling of long-wave instabilities in general and to falling film flows in particular. The different methodologies are discussed and applied to the modeling of inertial flows in a Hele-Shaw cell and to he Kapitza instabilityof a falling film. I then investigate the coupling of the Kapitza instability with the Marangoni (heated films) and the Rayleigh-Plateau instabilities (films running down fibers). Finally I present some recent works on non-Newtonian falling films, films running on porous media and some current works on films sheared by a gas stream.


simulation of a film down a fiber corresponding to an experiment by Kliakhander et al. (JFM, 2001)


simulation of a shearthinning film flow