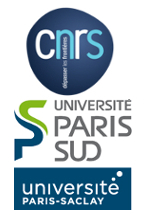 Home > Directory > G. Dietze > FAST_LIMSI_seminar

Pictures related to FAST/LIMSI seminar
William Batson (03/07/2014): The saturated response (above) of the fundamental axisymmetric mode for two periods (2T=4π/ω) of a vibrational signal (below) consisting of 3ω and 4ω components.




Benoit Fond (09/04/2015): Temporal evolution of the temperature and velocity fields in the wake of a heated cylinder. Every fifteenth image of the 3kHz recording is displayed. From C. Abram, B. Fond, A. L. Heyes and F. Beyrau, Appl. Physics B (2013), 111 115-160.




Laurence Ramos (31/03/2016).




Jean-Baptiste Salmon (08/02/2018): Vision schématique d'une goutte confinée (diamètre: 2 mm, diamètre des plaques: 8 cm).




Philippe Claudin (21/06/2018): À gauche, une photo de la comète Tchouri où l'on distingue le dégazage de vapeur d'eau qui entraîne des poussières (copyright ESA/Rosetta/NAVCAM). À droite, la région du cou entre les deux lobes de la comète. On y observe différents types de relief, dont ces dunes au bas à gauche (cercle rouge), dans la zone sableuse.




Giuseppe Pucci (27/09/2018): Fig.1. (a) A snapshot from the partial coalescence of a soap bubble with a soap film. (b) Trajectory of a walking droplet that experiences a step change in the bath depth. (c) A water slider.