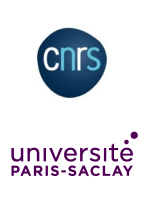 Home > Directory > G. Dietze > FASTLIMSIseminar

Pictures related to FAST/LIMSI seminar
William Batson (03/07/2014): The saturated response (above) of the fundamental axisymmetric mode for two periods (2T=4π/ω) of a vibrational signal (below) consisting of 3ω and 4ω components.




Benoit Fond (09/04/2015): Temporal evolution of the temperature and velocity fields in the wake of a heated cylinder. Every fifteenth image of the 3kHz recording is displayed. From C. Abram, B. Fond, A. L. Heyes and F. Beyrau, Appl. Physics B (2013), 111 115-160.




Laurence Ramos (31/03/2016).




Jean-Baptiste Salmon (08/02/2018): Vision schématique d'une goutte confinée (diamètre: 2 mm, diamètre des plaques: 8 cm).




Philippe Claudin (21/06/2018): À gauche, une photo de la comète Tchouri où l'on distingue le dégazage de vapeur d'eau qui entraîne des poussières (copyright ESA/Rosetta/NAVCAM). À droite, la région du cou entre les deux lobes de la comète. On y observe différents types de relief, dont ces dunes au bas à gauche (cercle rouge), dans la zone sableuse.




Giuseppe Pucci (27/09/2018): Fig.1. (a) A snapshot from the partial coalescence of a soap bubble with a soap film. (b) Trajectory of a walking droplet that experiences a step change in the bath depth. (c) A water slider.




Arnaud Antkowiak (07/11/2019): Haut : Soie de capture de Néphile se bobinant spontanément au sein des gouttes de glu afin de former des réservoirs de fibre (Elettro et al., 2016). Bas : Clichés obtenus par microscopie électronique montrant un macrophage J774. La première photo (A) présente le macrophage au repos. Les deux clichés suivants (B et C) montrent le macrophage gobant une bille de 30 µm recouverte d'anticorps. Tout au long de cet évènement, la membrane initialement corruguée se lisse à mesure que les réserves membranaires se déplient, permettant ainsi une extension de surface d'un facteur 5. Reproduit de Lam et al. (2009). Échelle: 10 µm.




Giulio Facchini (12/03/2020): Numerical simulation of our growth model (left) and fragment of an arboreal nest of Nasutitermes ephratae collected from the field (right).




Baptiste Darbois Texier (28/01/2021).